Teresa Hornbach's Periodontal Success Story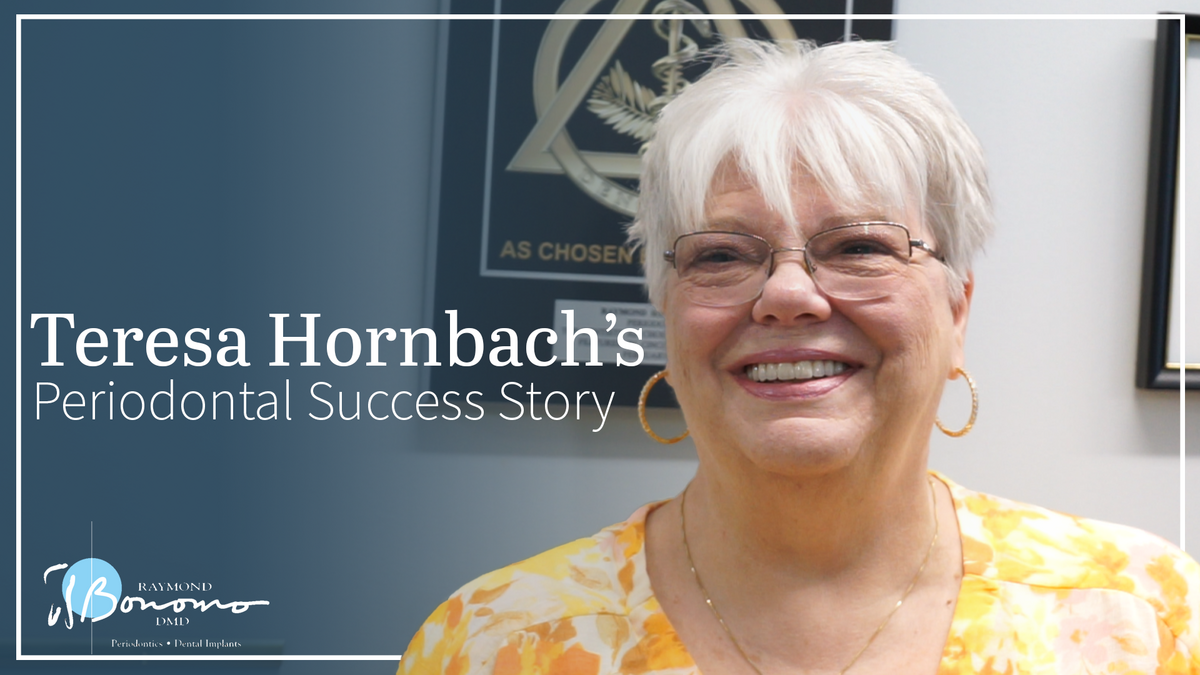 Today we will be sitting down with Teresa Hornbach, a patient who has been with us for many years. Teresa chose to have the Teeth in a Day procedure with Dr. Bonomo, which is a procedure where the original teeth are removed, and artificial teeth are implemented in their place for a full, healthy smile in just one day. She was so pleased with the results and when we reached out to Teresa asking her to share her story, she was more than excited.

In this post, we'll delve into Teresa's story, motivation, and insights from her experience with Bonomo Periodontic.
Rediscover Your Smile with Bonomo Periodontics
"I like everybody here! Let me just tell you, I very much do! I can't say enough nice things about them as well.

I'm Teresa Hornback from Cincinnati. I worked at a hospital for 47 years, and never had a teeth issue. My issue has always been my gums. I had braces as a child. I've had root [issues]. I've had multiple things.

I was 19 when I had my first grafting done. That was such a big thing for my parents back in the '50s and '60s. I had braces in 1964, when it was in its infancy. My brother and sister both had braces too. I mean, my parents sacrificed a lot, then as time went on, for things to go wrong, it was upsetting. My parents are gone now, but all the work they put into it and all the work I put into it as well.

My regular dentist kept telling me, I think you need to have a scraping done.

He suggested some doctors. He suggested Dr. Bonomo. So, I went to him, and he had the procedure done. He did a marvelous job! I mean, the staff was just -- I can't say enough good things about them! They kept me well at ease.

And it was not painful. It was superb. It helped for probably four or five years! Then all of a sudden, my teeth started to become loose. I was afraid that if I chewed on something bad, it would crack or come out.

I mean, they were that bad, which is a shame, because I started going to a dentist when I was five years old. As Dr. Bonomo also said, sometimes these issues are hereditary. As time went on, it got worse.

So, when I came in, he did an evaluation. He [Dr. Bonomo] said, "Oh, it's really bad. You need to either get dentures or we have this new procedure. It's a dental implant."

It's a denture, but you don't take it out every night and clean them. They get taken out every two years, which is nice. I said, well, it is expensive, but it's something I felt that I needed to have done.

It makes your life a lot nicer! Because you're always afraid something's going to happen, and it doesn't look nice. I never smiled because my teeth looked so bad, which upset me because of all the work my parents did and I did, we decided to have it done."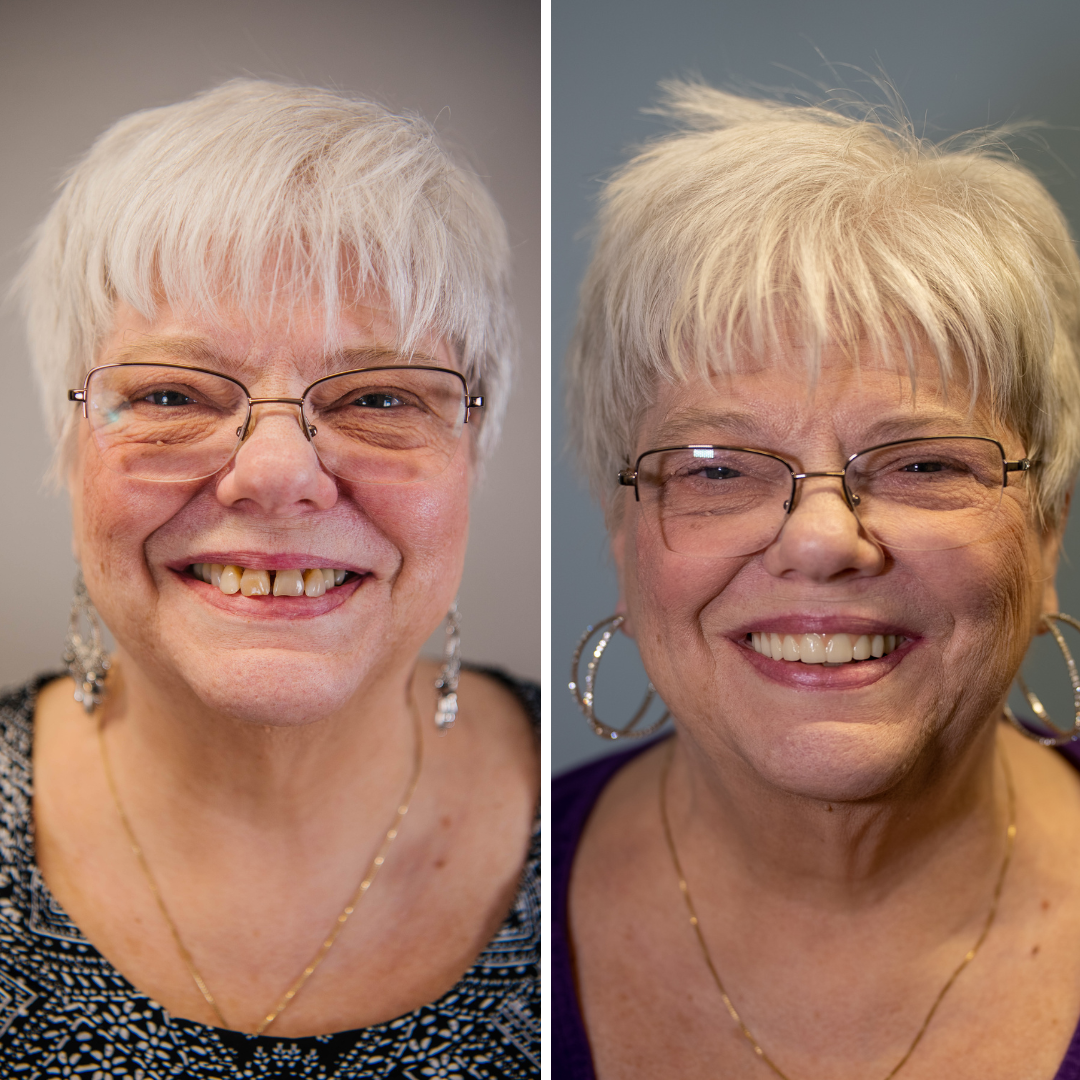 Quality Care with Bonomo Periodontic


"[The staff] wanted to make sure I was well informed. Then when I had it done, I think it maybe took a couple of hours. It wasn't even that long, but I was sedated. I was completely under. I don't even remember.

Next thing you know, it was done. It was early in the morning, and I was home before noon. I had no pain. Even when I went home, I had no pain. And as you can tell, I smile all the time now because they look good.

For once, I could say, look at my mouth, it's excellent. I can't say enough good things about Dr. Bonomo, his staff, everybody. When it came to the financial part of it, the scheduling, everybody has been super nice.

I mean, I can't say enough good things about everybody. I'm a chatty person. It's nice to be able to talk now and actually open my mouth up that you can see how nice the teeth look. It does a lot for you.

It really makes you feel better. I mean, like I said, you want to smile and to me, that's huge. That's so important. When somebody looks at me, they can look at my mouth and say, oh, gosh, look at her teeth! Doesn't she have great teeth? Because I always told everybody I'm dying with all my teeth.

I've been going to the dentist my whole life. I think the biggest thing is just being able to smile."
Better Oral Care from Bonomo Periodontics


Thank you, Teresa Hornbach for sharing your story! We hope Teresa's experience has helped you discover some of the advantages of dental implants and how they can change your life for the better.

Be sure to check back for more testimonials!

If you are interested in discovering the difference Bonomo Periodontics can make in your life, then click here to reach out to Dr. Bonomo today!

Or click here to follow Bonomo Periodontics on Facebook for more information on oral health!

If you are happy with the difference Bonomo Periodontics has made in your life, please leave us a quick five-star review here!